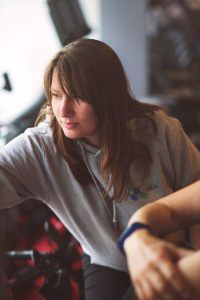 In 2008 I was diagnosed with a very rare pituitary tumour (Cushing's disease). It was whilst I was ill with this disease that I found my love of fitness. Due to the excess of the stress hormone cortisol, I saw my weight increase, making me look 6 months pregnant and my face become swollen, puffy and red. I developed stretch marks all over my body and my hair was falling out. Not to mention my mental health – I would experience mood swings and depression. Working with my own personal trainer at the time helped me to deal with these emotions but also take control of my body. I also joined a kickboxing club, which I loved and gave me an outlet for any negative feelings.
My surgery was a success and over the months I made a full recovery with my hormones returning to normal. Unfortunately I was left with post traumatic stress. Exercise was my choice treatment and so this is where my belief in the body and mind comes into play.
My trainer was such an inspiration and large part of my recovery that I decided to retrain as a personal trainer myself. And so I did! In 2010 I launched Feelgood Fitness.
I'm a firm believer in using your own experience when helping others and so my focus on injuries and pain was led by my own battles with back pain caused by a scoliosis. Fast forward a few years and I became pregnant with my first son, I experienced pelvic girdle pain and I found there was very little help around the area. I was also shocked at how little aftercare women receive once they have their babies and this is what led me to undertake further training to work with the postnatal woman.
My luck isn't the best with regards to my own health and in 2017 my second son was born 12 weeks premature, which may have been down to a re-occurrence of the Cushing's disease. On the 2nd Jan 2018 I underwent another 2 operations to attempt to cure me, both of which were unsuccessful. I was then referred to Cambridge to undergo a PET MRI specifically designed for cortisol detection, one of only 2 places in the UK to offer this. After the scan I then underwent my 3rd operation which has so far been successful.
In 2019 I put my focus in to qualifying to teach on the Pilates equipment, Sports massage. pregnancy and post natal massage. In 2020 I looking at expanding my expertise into scoliosis, hypermobility and children as well as scar massage and remedial Pilates.
Throughout all of this I stay focused and realistic. Being healthy and active helps not just in terms of fitness but also from a mental health point of view too. From my own life experiences I can empathise with my clients. Sometimes weight loss isn't just a case of 1000 burpees, or pregnancy as blissful as it is in films. However, I feel that I can make a difference to you, whether it be from joining a class, attending a workshop or working with me one-to-one.