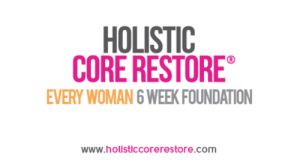 Next group course starts September 2018 at the Park Centre Knowle.
Are you a new or old mum? Do you feel your pelvic floor isn't what it used to be? Do you worry about accidents in the gym? Are you looking to improve your tummy muscles again? If you answered "yes" to any of these then the Holistic Core Restore®Every Woman foundation course is for you!
In this 6-week program, we will start to strengthen your abdominals, core and pelvic floor. Not only that but we will look at nutrition, hydration, self-care and exercise.
Included in the price is all the kit you will need (worth £20), an information booklet, a homework portal that you will have access to for life and an initial 30-minute screening prior to the session.
Numbers will be capped at 10 people to ensure I can give you maximum attention throughout the sessions.
If you are new to the course please fill in the pelvic health and core pre-screening questionnaire below before booking. This will help ensure the course is right for you.
Prices
£300 for one to one
£150 per person for small groups