Sian set up Feelgood Fitness to help other people feel fitter and happier about themselves. Initially she focused on working with people suffering with back pain and other injuries as this was something close to her personally. She's trained both in fitness as well as a fully comprehensive Pilates and has a degree in Sports Science.
Over the years and after having her own children, Sian decided to focus more on women's health and fitness and in particular around the postnatal period. The female body goes through so much change during childbirth that sometimes it needs a little bit of care and special attention when returning to fitness. For this reason she focused her skills on helping women to heal and learn about their tummy separation issues (diastasis recti), pelvic pain such as PGP or SPD and pelvic floor health.
Sian's a firm believer in treating the whole body and taking a holistic approach not just focusing on exercising. She looks at daily life habits and tries to incorporate working towards your goals into your everyday life. As well as working with you personally Sian can refer you to the right professionals if you need more help such as women's health physiotherapists, musculoskeletal physiotherapists, masseuse and nutritionists.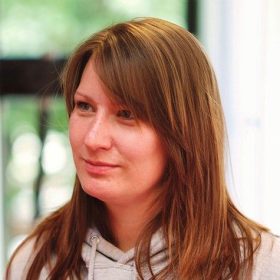 Cecilia has been a massage therapists for over 20 years, and has been practicing various modalities of dance, fitness and movement alongside it to help her integrate her creative self, support her physical and mental health as well as discover mental pathways that movement practices offer.
When the pandemic froze her massage practice, she trained as a barre teacher, as she found through her own practice that it integrated her love for music, it helped her dance practice but overall, just helped her feel stronger in a very holistic way.
Barre classes with her are about having fun, challenging your self but also listening to your body. She aims to make it inclusive and accessible for all body types and levels of fitness without letting self judgement get the best of us.
Lydia first discovered Pilates during her training as a contemporary dancer. Pilates classes were taught frequently and became an essential practice to enhance body awareness, improve alignment, strength and flexibility.
Since finishing her MA in dance performance. Lydia continued teaching dance in schools across London with Greenwich Dance Agency and now works with Magpie Dance, leading dance and Pilates classes with dancers with learning disabilities. She has also worked with elderly people with Parkinson's disease and Dementia.
Lydia completed her training as a level 3 Pilates teacher and since then has completed her pre/post-natal Pilates and Pilates for orthopaedic conditions. She is passionate about rehabilitation and improving her clients' overall health and wellbeing. Postural improvement, core strength and mobility are focused heavily in her classes where she aims to create an inclusive and engaging space for all.
Being healthy and active has always been a passion for Sarah, from completing her BSc in Sports and Exercise Science; investigating the effects of the menstrual cycle and oral contraceptives on female running performance; to enjoying outdoor pursuits such as climbing, outdoor swimming, triathlon and marathon running. Sarah completed an MSc in Marketing, looking in depth into Self Image Incongruence in sports participation. Using this knowledge Sarah aims to create an inclusive and encouraging environment in all her classes.
After starting a family, Sarah completed her training as a level 3 Pilates Instructor,  recognising the huge benefits to her own health and wellbeing Since then she has gained her certificate in Pilates Reformer training with Polestar Pilates and is currently undertaking comprehensive training with Peak Pilates in teaching Classical Pilates.
Sarah is passionate about incorporating  movement into everyday life and in particular the many benefits of Pilates in promoting mindfulness, strength, stability, flexibility and body awareness.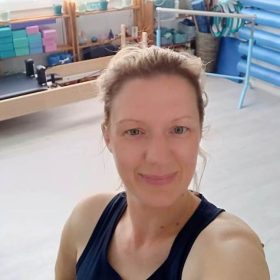 Training
RSA Teaching certificate in Exercise to Music
BSc Sport and Exercise Science with Biology
YMCA Level 3 Mat Pilates
Trigger Point Pilates Level 1 Mat Work Instructor
Polestar Pilates Reformer Pilates Certification
CPD training in Pilates for Rotational Sports