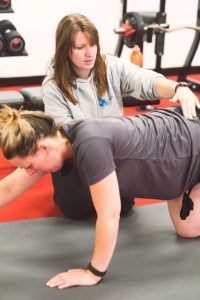 Being pregnant is what we were made to do. For some it's a magical time and they feel at one with their body. For some, like me, it's not so glamorous as you mostly feel like a large, greasy whale! In either case, keeping active can help you to feel more comfortable during the pregnancy and could also help with the birth too, although this is different for every woman.
Being active can help to regulate your blood pressure and keep excessive weight gain down, increase circulation helping with swelling and cramps and create a strong and functional core and pelvic floor in preparation for birth.
If you are suffering from pelvic girdle pain or back pain, I can help you manage this and keep you moving throughout.
Because every pregnancy is different, each session and program is tailored to your body's needs. I'll take into account your current fitness regime and offer adaptions as you progress throughout the trimesters. As you edge closer to birth we will focus more on breath work and pelvic floor.
As well as individual sessions, I also offer a pregnancy fitness and Pilates class where you can meet other expectant mothers. The class will be challenging without compromising your growing bump, as well as focusing on birth preparation, keeping you mobile and as pain free as possible throughout your pregnancy.
I have been having individual sessions with Sian for 3 months to help recover from pelvic girdle pain which I have been suffering from since being 12 weeks pregnant, 18 months ago. Since starting with Sian my pain has significantly decreased and I have learnt to 'self manage' the condition. I also feel much stronger physically and more flexible. I can't recommend her enough!" Anna
New clients will be asked to complete a health screening questionnaire so I can assess if my services are right for you. If not, I can put you in touch with the right people.